Prevent the Summer Slide For Teens
Summer is coming and it's time to get your teen excited to learn in a way they never get to experience in school. Now is the time to foster those passions and excitement over their own growth of new skills. This also helps teens stay engaged and prevent the dreaded "summer slide" where skills diminish over the holidays.
FOSTERING A PASSION FOR LEARNING IN TEENS
Disclaimer: This article may contain commission or affiliate links. As an Amazon Associate I earn from qualifying purchases.
Not seeing our videos? Turn off any adblockers to ensure our video feed can be seen. Or visit our YouTube channel to see if the video has been uploaded there. We are slowly uploading our archives. Thanks!
Summer is the perfect time to foster those passion pursuits in your teens and get them excited about learning and their future careers. Does your teen have an interest in something new and different? Something they don't teach in the classroom? Why not make this summer their chance to explore those interests and see where it might take them?
Are you wondering how? Here are some tips to get yous started.
Summer Teens Goal Journal
First, make sure you grab our Summer Teens Goal Journal. It is free for our mailing list subscribers and will help your teen set goals and come up with ideas for the summer. Having them get excited about their summer projects and goals is the first step to success. Plus learning how to use a journal and planner is a great life skill, and helps them develop important organizational skills.
Just sign up here to unlock your free journal
Create A Summer Bucket List
Encourage your teens to create a bucket list of projects they want to do this summer. Include new skills they would like to learn or new things they want to try. The Journal I have available above has a section just for this! Now is a great time to try all those ideas that they never have time for during the school year.
Tinker Kits – Learn a New Skill, Tackle A New Project
Once your teens have created a bucket list of new skills and projects they want to do, put together the tools and supplies they need to make it happen. Building a Tinker Kit to help them explore there new interests will help them on their path of discovery and learning.
Maybe they are aspiring blacksmiths or metalsmiths and want to try metal stamping.
Or perhaps they want to learn how to make soaps and bath bombs.
Maybe they are an aspiring writer or artist.
Or maybe they want to try making clay sculptures, or making candy, or home DIY projects.
Investing in some supplies, tools and books could help launch a whole new passion and career. In fact, many of these could become side hustles for teens to do while they finish their schooling.
Start a Business
Young entrepreneurs are a powerful force in our economy and for our future. Starting a business in your teens is a great way to earn some cash and learn some fantastic business skills. Take that passion, drive and interest and turn it into an incredible learning and business opportunity. Not sure where to begin with starting your own business? Boss Club offers an incredible program to teach teens how to start their own business. Enter promo code 'STEAMPoweredFamily' and get 10% off, then start your teen on the path of entrepreneurship.
Science Lab Time with MEL Science
We are huge fans of MEL Science! Their labs are fantastic and open up the chance for kids to have fun learning science, in particular chemistry, in ways that would be so hard to do on your own. The quality of these boxes is second to none and your kids will have a blast doing all the really cool science experiments. Did I mention the VR feature? Yeah, this is one program your teens (and tweens), will LOVE!
Learn Coding and Circuits with Creation Crate
It's no secret we are big fans of Creation Crate. Their hands on learning boxes are always a fantastic project for teens. Right now we are building a Boom Box and next we are going to tackle building an Optical Theremin and a wearable Heart Rate Monitor. Their projects are always such a great challenge for teens and they include tons of amazing, practical skills that could help your teen find their new career path.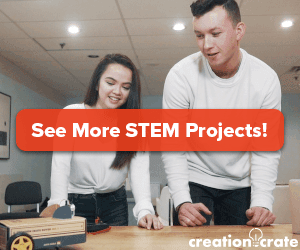 Chem Labs with Creation Crate
New this year, Creation Crate now has Chemistry labs for your aspiring scientists.
Outschool
We discovered Outschool a number of years ago and have really enjoyed it. It is kind of like Teachers Paying Teachers but it is teachers offering courses for kids in a dizzying array of topics. My teen learned how to play Dungeons and Dragons and has joined a number of weekly games. We have also done some fascinating courses exploring passion interests. At one point my son really wanted to learn all the Greek and Latin roots of English words. Guess what, there is a fantastic instructor teaching exactly that! And that instructor also teaches a Doctor Who course on writing that we just had to take. No matter what subject matter your child is interested in, there is probably a course for them on Outschool.
Writing, Film Making, Chess & Basketball – Masterclass has it all
When I signed up for a MasterClass All-Access Pass a couple of months ago I was a little unsure. It was expensive and I wondered if it would provide enough educational value. Boy does it ever!!
My teen and I have been learning about writing from Neil Gamien (SQUEE! My geek heart sang the whole time), Dan Brown, James Patterson and Judy Blume.
After learning all about writing, my teen started learning film making from Ron Howard and Spike Lee, plus script writing from some huge names. While he is doing that I have been learning photography from National Geographic photographer Jimmy Chin and Annie Leibovitz.
And my youngest has been learning about Space from Chris Hadfield, plus Chess and Basketball. Yes basketball.
I would say we are more than getting our money out of our MasterClass All-Access Pass . It's been an amazing investment and they keep adding such cool courses. The latest one we are so excited to do this summer is learning magic tricks from Penn and Teller!
A great tip with MasterClass is that you can do your lessons offline. Perfect if you are doing some travelling this summer.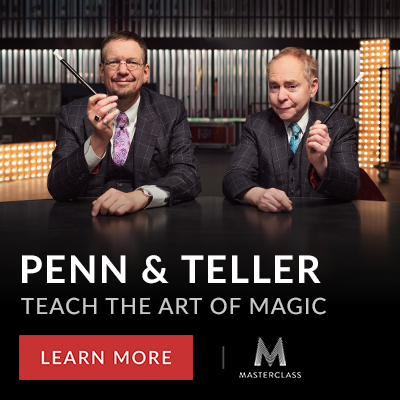 Ideas for Tweens
I have focused on projects for teens but what about your younger kids that also want to chase their passions this summer? You can easily adapt some of our recommendations for your younger ones. Masterclass, Outschool, Tinker Kits and a custom Summer Bucket List can all be used with your tweens and even younger. But here are a few special ideas just for your younger kids.
Tappity
Got a kid that loves learning about science in a multi-sensory way? You MUST check out Tappity. My 10 year old is obsessed with it, and they keep building and growing the program which keeps my kid coming back and learning all summer long. Plus each week they have a "game show" edition that my son loves doing. Best of all it can be done offline while you are traveling.
Groovy Lab In A Box
Groovy Lab in a Box is a great box program that send everything you need for some inspiring engineering and STEM projects. You can even order specific boxes that suit your child's interests.
Mel Kids
We LOVE Mel Kids! It is a fantastic STEM box with a fantastic comic book style story, plus a high quality build projects. Some of our builds we are still using months later!
This summer encourage your kids to set goals and explore new paths. The skills they develop this summer could be their career of the future. By fostering these passions we are helping teens build life long skills, a drive to learn, and abilities that will build confidence.
MORE IDEAS FOR TEENS