Whovians come in all shapes and sizes, with different jobs and interests, but there is one thing we all share in common, our passion for The Doctor! If you have a Whovian in your life, finding the perfect gift can be tough, but here is a list of some fantastic Whovian approved gifts.
Doctor Who Gifts That Are Sure To Please
Disclaimer: This post contains affiliate links
THE ULTIMATE DOCTOR WHO GIFT GUIDE

THE HAPPY HOMEMAKER WHOVIAN
Dining With The Doctor? Why yes, please! A Doctor Who cookbook

Salt & Pepper Shakers

Doctor Who TARDIS Tea Infuser – Because one must always make time for tea

And serve it on a TARDIS Tea Tray

Doctor Who Cookie Cutters – For making universally approved yummies
Doctor Who TARDIS String Lights – Great for tree and house decorating. I have 4 sets and you can now get angel ones too!

TARDIS Towel – My favourite towel.

FOR THE WHOVIAN WHO LOVES A GOOD SNUGGLE UP AND NAP
TARDIS Union Jack PJ Pants – These are on my wish list!

TARDIS Bathrobe from ThinkGeek – I have this robe and it is soooo cozy and soft!

Boot slippers – For cozy, warm tootsies.

FOR THE STYLISH WHOVIAN WEARING THEIR PASSION WITH PRIDE
For the Whovian who really loves to make a statement these coats are a must have!
10th Doctor – Men's

I bought my husband the Captain Jack one and the quality is phenomenal

Fashionably fab with a Union Jack TARDIS Infinity Scarf

Whovian T-Shirt – I don't think it's possible to have too many Doctor Who t-shirts. It's the best way to meet other Whovians!
o
This galaxy t-shirt is one of my favs, the colours are amazing

Doctor Who Knee Socks – I love my knee socks!

FOR THE BEDAZZLED WHOVIAN SPARKLING TO ALL ENDS OF THE UNIVERSE
Police Box Diamond and Sapphire Ring – This has been on my wish list for a while!! One day!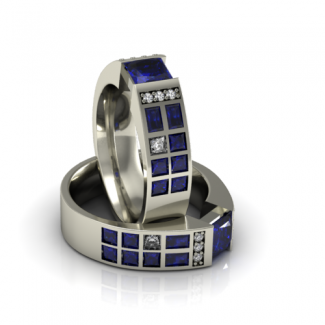 FOR THE STUDENT WHOVIAN WORKING HARD TO UNDERSTAND TIMEY WHIMEY
Journals, a Whovian can never have enough journals to document their dreams and travels!

A back pack so they are always ready for the Doctor.

The perfect lunch box for eating on the run, like when the Doctor shows up and invites you into the TARDIS
FOR THE LITERARY WHOVIAN WHO KNOWS WE ARE ALL A STORY

Doctor Who Mad Libs – A fun way to write your own stories

Doctor Who Character Encyclopedia

Stories from The Doctor – 12 Doctors, 12 Stories

FOR THE GAMER WHOVIANS WHO KNOW IT'S ALL ABOUT THE CHALLENGE



Lego Dimensions with the Doctor Who Sets, of course!
FOR THE COLLECTOR WHOVIAN WHO LOVES THEIR KEEPSAKES
It's not available until February 2016 (or November in the UK) but I'm guessing every Doctor Who fan is going to want the official Doctor Who Colouring Book!

Dalek 1/2 Ounce Silver Coin – This coin from the BBC is beautiful – click through to see it.
WANT TO MAKE SOMETHING SPECIAL? OR HAVE A CRAFTY WHOVIAN?



Make your own TARDIS and Dalek crayons
Create a treat you know they will love – Doctor Who Gummy Candies!
Glow In The Dark Jello TARDIS
Do you have a favourite Doctor Who item that you think should be on this list? Let me know in the comments! I'm always on the search for great Whovian items and would love to hear about them.